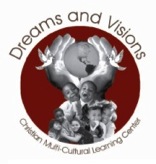 DREAMS & VISIONS MULTI-CULTURAL CHRISTIAN LEARNING CENTER
8320 Landover Road • Landover, MD 20785
Email: • Office 301-773-9660 • Fax: 301-773-9330
Bobby D. Hicks, Minister
Elkicha Womack, Director
Welcome to the Dreams and Visions Christian Learning Center (DVCLC). It is our goal to provide a challenging environment, nurturing atmosphere and qualified staff to motivate each child to reach his or her fullest potential. In order for us to reach our goal, it is very important that we develop a partnership between the parents and the staff. As partners, we have a common goal – the well being of the child. Our staff looks forward to working with you and we encourage you to work with us. By working together today, our partnership can ensure a brighter future for our children tomorrow. The Dreams and Visions staff will ensure a safe and healthy atmosphere for your child to learn and grow. We are very excited about your interest and look forward to seeing you in the future.
DVCLC enrolls children between the ages of 2 and 4 years old.
The hours of operation are 6:00 a.m. – 6:00 p.m.
We use the A Beka Christian Learning Curriculum founded on the principles and precepts of God's Word.
DVCLC offers breakfast, lunch and snack.
Our staff is certified and received credentials through the State of Maryland.
Our staff is CPR and First Aid Certified.
Our staff attends workshops, conferences and seminars throughout the year to stay current with the regulation changes and to enhance our knowledge in early childhood development.
All children must be fully potty trained.
All students must be in class by 9:00 am or a doctor's note is required for the child to be permitted in class.
There is a 10 hour daily maximum time for care in effect.
If a child is picked up after 6:00 p.m. or beyond their 10 hour maximum, a $3 per minute late fee is charged.
The students must be in the school uniform daily unless otherwise stated.
The students must wear the DVCLC T-Shirt or sweatshirt on all field trips.
Open Door Policy.
Please click here to download registration package information for your child.